Vancouver Mayor Gregor Robertson Dating Chinese Pop Star
Sorry, ladies, it turns out Vancouver's most eligible bachelor is no longer single.
Those interested in Vancouver Mayor Gregor Robertson's romantic life since he separated from his longtime wife last spring were tossed a tasty nugget of information Tuesday.
Robertson, 50, is now dating a Chinese pop star, according to civic blogger Frances Bula.

(From Wanting Qu's Facebook page: " A gift from China to Canada! A traditional Chinese water painting from a fan of mine who initially did a painting of me and I loved it so I asked if he could do one for my friend Gregor Robertson (who just happened to be the Mayor of Vancouver Canada, Lol!) So artist Jianfeng did an amazing job and Gregor loved it!! So proud of Chinese art!")
"According to extremely reliable sources (this is not gossip), he is currently seeing Wanting Qu, a 31-year-old Chinese popular-music star who has a lot of buzz in Vancouver," Bula posted on her blog on Tuesday.
Wanting Qu, known simply as Wanting, is from China but she moved to Vancouver in her teens. She briefly went to Simon Fraser University, started her singing career in Vancouver and in 2009 was signed by Vancouver's Nettwerk Management.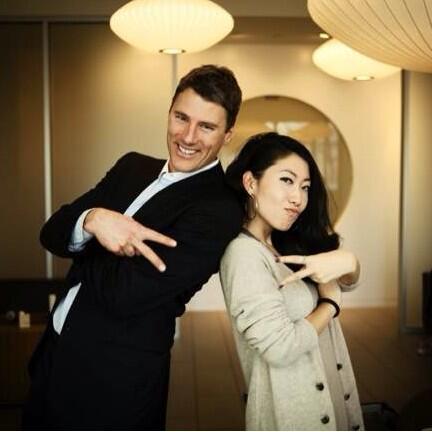 One of her tunes went platinum in China a week after it was released in 2012 and some of her singles have been used in movies and television shows.
Tourism Vancouver announced in early 2013 that Wanting had been appointed as Vancouver's first tourism ambassador in Mainland China.
Wanting accompanied Robertson in China in November 2013 as part of a Vancouver delegation focused on strengthening business and cultural ties to four Chinese cities, including Guangzhou, Vancouver's sister city.
News of Robertson's 'amicable' split from ex-wife Amy Robertson broke in July, just as Vision Vancouver's civic election campaign began.
Amy and Gregor have been married since the late 1980s and have four adult children. Gregor has been living in a condo in downtown Vancouver's West End while Amy remains in the Kitsilano home they purchased in 2013.
The mayor's office said late Tuesday that Robertson's personal life is not a matter they will comment on.
[via The National Post]