Nine Complaints About Bending iPhone 6's, Apple on the Defense
The Guardian reports, "Apple has responded firmly to claims that its new iPhones can bend in use, saying that only nine customers have contacted it with problems since the phones went on sale last Friday. The company said in a statement earlier this week that it had sold 10m of its new iPhones over three days.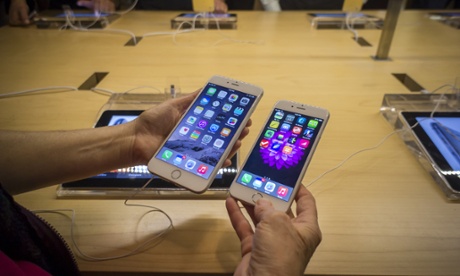 (A customer in the Apple store in Grand Central Terminal in New York compares an iPhone 6 and a 6 Plus. Photograph: Richard Levine/Richard Levine/Demotix/Corbis)
The response comes after claims on social media that the new iPhone 6 and especially the larger 6 Plus can become warped or bent when carried in trouser pockets.
"With normal use a bend in iPhone is extremely rare and through our first six days of sale, a total of nine customers have contacted Apple with a bent iPhone 6 Plus," said Apple spokesman Adam Howorth. "As with any Apple product, if you have questions please contact Apple."
The company has reacted quickly to the potentially damaging claims that the phones, which are made of aluminium alloy and at 7.1mm thick are among the thinnest available, could become misshapen.
Claims that the larger phones could bend could affect sales of the phone, which generate more than 50% of the company's revenues and a larger proportion of its profits. The first reports of bending surfaced earlier this week, but there has been no authoritative figure of how many people have been affected. The Guardian's own testing of the phones did not show any problems with bending or warping.
"Our iPhones are designed, engineered and manufactured to be both beautiful and sturdy," Howorth said. He added that the iPhone 6 and iPhone 6 Plus "feature a precision engineered unibody enclosure constructed from machining a custom grade of 6000 series anodized aluminum, which is tempered for extra strength. They also feature stainless steel and titanium inserts to reinforce high stress locations and use the strongest glass in the smartphone industry."
6000 series aluminium alloy is one of the most widely used, and includes magnesium and silicon to harden it. Thousands of different aluminium alloys are used in a variety of industrial applications ranging from bridges, cranes and beer barrels to aircraft wings. Apple has used aluminium for the body of its products since the iPhone's launch in 2007. The new iPhones start from an alloy ingot which is then hollowed and shaped to produce the chassis for the phone.
"We chose these high-quality materials and construction very carefully for their strength and durability. We also perform rigorous tests throughout the entire development cycle including 3-point bending, pressure point cycling, sit, torsion, and user studies. iPhone 6 and iPhone 6 Plus meet or exceed all of our high quality standards to endure everyday, real life use," Howorth said.
"Three-point bending" means that a force is applied at a single point – each end and the middle while the other two are held steady. "Pressure point cycling" means repetitive forces are applied to see whether a part fails under repeated stress, while a "sit test" aims to mimic the effect of sitting down with the phone in a back pocket – a situation that some are now claiming has led to the problem. Apple also gets its own employees to test the phones in real-world situations – which has previously seen staff lose prototype phones ahead of their launch."
Source: The Guardian