Ebola Epidemic: Sierra Leone Quarantines a Million People
The Guardian reports, "Sierra Leone's government has quarantined more than a million people in an attempt to bring an end to the spread of the deadly Ebola virus.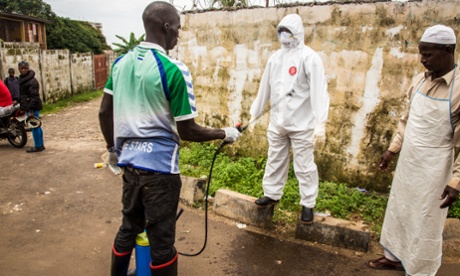 (A health worker is disinfected after assisting with a suspected case of Ebola in Freetown, Sierra Leone. Photograph: Michael Duff/AP)
Areas in the east of the country on the border of Guinea have been under quarantine for months but travel is now restricted in three more areas where an estimated 1.5 million people live. Nearly a third of the country's population across 14 districts is now under curfew.
The move comes as world leaders meet to discuss the crisis at the United Nations, and days after a three-day nationwide lockdown ended.
In an address to the nation, Sierra Leone's president, Ernest Bai Koroma, said the weekend's lockdown had "met its objectives" but had also exposed the challenges posed by the Ebola crisis.
In addition to announcing the new isolation districts, the government is establishing corridors for travel between non-quarantined districts, with a curfew on all travel outside the hours of 9am and 5pm. Koroma said the isolation would "definitely pose great difficulties for our people in these districts".
The British charity Street Child said there had been no warning given of the latest lockdown and said it was concerned that this would lead to mass starvation. "We were not prepare for the quarantine overnight. The areas being quarantined are really poor communities, most people live on 50p a day," its country director, Kelfa Kargbo, told the Guardian.
"We need more help from the World Food Programme, but more than that we need a distribution network to be built to make sure the food gets in and gets in regularly to the starving people. I am expecting starvation to show in three or four weeks unless this is addressed."
The northern districts of Port Loko and Bombali have been closed off indefinitely along with the southern district of Moyamba, effectively sealing in around 1.2 million people.
The deadliest Ebola epidemic on record has infected more than 6,200 people in west Africa and killed nearly half of them, according to the World Health Organisation's latest figures.
The virus is spread through bodily fluids and once symptomatic can kill within four or five days. Symptoms include rampant fever, severe muscle pain, vomiting, diarrhoea and, in some cases, internal and external bleeding through the eyes and mouth.
World leaders are due to attend a meeting on Ebola convened by the UN secretary general, Ban Ki-moon, in New York later on Thursday, with Koroma and Liberia's President Ellen Johnson Sirleaf connected by video link.
The meeting, part of the UN general assembly, will hear from Barack Obama, and world leaders are expected to pledge help for attempts to contain the spread of the virus.
Obama, who is sending 3,000 troops to west Africa to help health workers, urged other countries to get behind a broader international effort.
In a speech to the general assembly, Obama grouped Ebola with the crisis in Ukraine and the threat posed by Islamic State in Iraq and Syria as new dangers to global security.
"As we speak, America is deploying our doctors and scientists – supported by our military – to help contain the outbreak of Ebola and pursue new treatments," Obama told the assembly. "But we need a broader effort to stop a disease that could kill hundreds of thousands, inflict horrific suffering, destabilise economies and move rapidly across borders."
Door-to-door searches during the three-day curfew in Sierra Leone identified more than 350 suspected new cases of Ebola, according by the top US diplomat in the country. Charge d'affairs Kathleen Fitzgibbon said teams of volunteers had also discovered 265 corpses, of which 216 had since been buried.
In an email to emergency workers, she said one of the priorities was to ensure all bodies were buried correctly, as funerals have been identified as one of the ways the disease has spread, with relatives touching the bodies of the deceased.
The US Centres for Disease Control estimated that the number of cases in Liberia and Sierra Leone could rise to 1.4 million by January, in a worst-case scenario based on data obtained before the world ramped up its response."
Source: The Guardian